https://www.instagram.com/p/CAxUPMrjAxt/
While pride month is soon coming to an end a number of brands have been celebrating and keeping the movement alive with clothing to wear all year round and spread the message of love and unity at a time many of us truly need to feel some love. With the fashion world having a global influence with billions of people looking to the fashion world for inspiration and content, its important for brands to use their influence and their platforms for good, both sending out a positive message and standing with the LGBTQ+ community but also putting their money where their mouth is and donating to causes that affect the Pride community.
Much like the Black Lives Matter movement, for many people in the LGBTQ+ community, pride is not just a one of month of celebration and action centred around the community but it is a fight all year round. A fight for equality and human rights we all deserve. So during this time don't just wave your pride flag and buy the rainbow t-shirts and accessories, research and get yourself educated on the importance behind the community, the pioneers and the people who sacrificed for the community to be were it is now. Ultimately that is what we celebrate and what we must use as an opportunity to be re-inspired by the resilience of human beings and the achievements we can make when we pull together.
Here are some of the brands supporting and spreading some Pride love as well as putting their money where their mouth is.
Dr .Martens
In association with the collection, Dr. Martens are donating $25,000 to The Trevor Project the worlds largest suicide prevention and crisis intervention organisation for LGBTQ young people
ASOS
Made from environmentally friendly cotton, the ASOS x GLAAD Unisex T-shirt with Unity Logo is breathable and comfy. The design of this shirt is meant to stand for the strength of people coming together. ASOS' Pride collection is donating 100% of its net profits to the organization.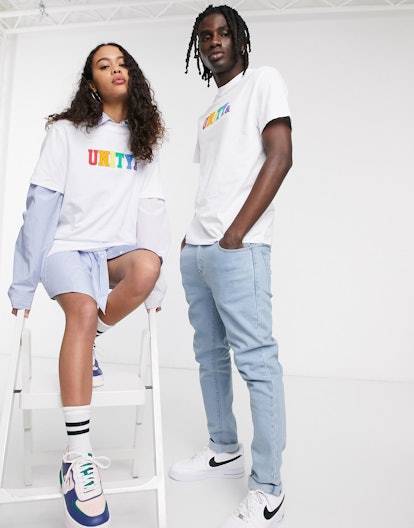 UGG
The comfy footwear brand launched an all-gender Pride Fluff Yeah sandal collection with the perfect colour combo to be sold year-round. The brand has also committed to donating $125,000 to GLAAD the organisation started in 1985 dedicated to tackling and shaping the lgbtq+ narrative.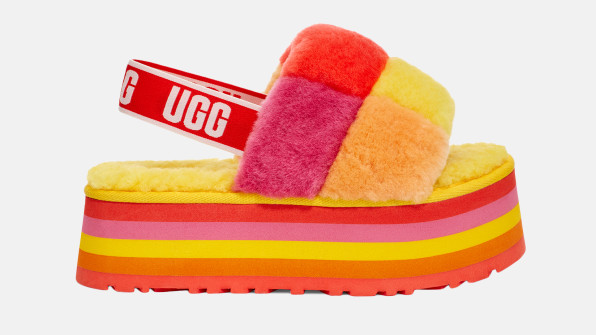 Converse
Calvin Klein
Levi
Levis's Pride collection is donating 100% of its net proceeds to OutRight Action International, an organization that works to advance LGBTQ+ rights worldwide.