Music News of the Week is your one-stop round up on both major and minor happenings in the world of music. This week's news the Streets vinyl reissue of their 2002 classic 'Original Pirate Material', Beyoncé performs at the Compton Tennis Courts and Questlove recieves Best Documentary at the 2022 Oscars, Phifedawg's posthumous album has been shared and more…
---
The Streets have announced the 20th anniversary vinyl for 'Original Pirate Material'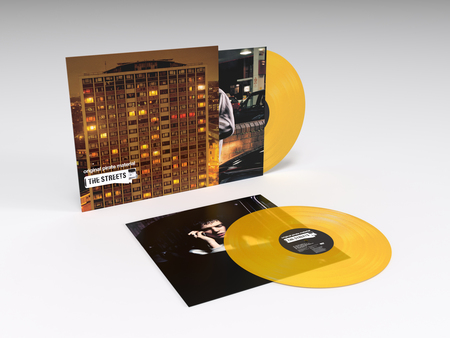 Mike Skinner's eminent debut is receiving a makeover for Record Store Day. Originally released 20 years ago on March 25 2002, the album featured singles including, 'Has It Come to This?', 'Let's Push Things Forward' and 'Don't Mug Yourself'. Certified 2x Platinum in the UK, it peaked at Number 10 on the UK charts. The new edition, released via the album's original label Locked On, will be presented in a limited edition orange vinyl box set and on an exclusive orange double vinyl LP.
As part of the anniversary celebrations, fans of The Streets will also be able to pick up a selection of exclusive merch designed by the streetwear brand SCRT. All of which will be available at the launch on April 23 (details can be found here).
---
Beyoncé performed at the Tennis Courts in Compton for the 2022 Oscars
Beyoncé appeared from the tennis courts in Compton–where Serena and Venus Williams, whose father is portrayed in King Richard, grew up. Here, she performed an elaborate rendition of the King Richard song, introduced by Venus and Serena Williams. "Be Alive" was in running for Best Original Song at the ceremony making Beyoncé's first Academy Award nomination.
Will Smith won Best Actor for his role in King Richard, however, the award was inevitably and quickly overshadowed by Smith walking on stage and slapping Chris Rock for a joke made about Jada Pinkett-Smith. Diddy also spoke up soon after the incident saying Chris apologised to Will Smith.
---
Questlove received a well-earned Best Documentary award for his directional debut Summer of Soul
"I'm so happy right now I could cry" says the Roots drummer and newly anointed director as he steps on stage. It's a big moment for Ahmir Thompson, bursting with emotions he mentioned his late feather Lee Andrews "I'm gonna get myself together and I'll thank everyone proper when I get off stage," said Questlove, before concluding his speech with "I'm so happy right now I could cry."
His film about the 1969 Harlem Cultural Festival, featuring footage of the pivotal concert series that was nearly lost to time, bested nominated films including Ascension, Attica, Writing With Fire, and fellow 2021 Sundance Film Festival darling Flee.
---
Listen to Phife Dawg's posthumous album
Since Phife Dawg's death in 2016 the world has only had the chance to hear him A Tribe Called Quest's triumphant final album We Got It From Here… Thank You 4 Your Service. That album was one of the last things Phife worked on before his passing and is an indelible final statement; but no doubt, he was also putting in time in the studio as he recorded a new solo album. Last week, on the sixth anniversary of his death, Phife Dawg's Forever became available to stream. Check it out below.
Spotify Suspended service in Russia due to Censorship
Spotify has now suspended its service entirely across Russia. Having paused its premium tier there earlier this month in response to the invasion of Ukraine. The streaming service had been keen to keep operating in Russia, in what it said was an effort to "allow for the global flow of information" to listeners there.
The policy has now shifted in response to the law recently introduced in Russia targeting certain news stories. "Spotify has continued to believe that it's critically important to try to keep our service operational in Russia to provide trusted, independent news and information in the region," said the company in a statement.
---
Listen to the full Top Boy S2 tracklist featuring BZ, Wesley Joseph, Priya Ragu and more top-brow artists.