https://www.instagram.com/p/B9EkgYIJJ9P/
https://www.instagram.com/p/B-7iFAupXJc/
https://www.instagram.com/p/B9wRB7QB-Pw/
https://www.instagram.com/p/B-5itz0gmfO/
https://www.instagram.com/p/B0LYNp6hwLH/
https://www.instagram.com/p/B_-R0MLpGaU/
Whether you're looking for a cool new look for your walk around the block, or simply want to jazz up your Monday morning Zoom meetings, you can't go far wrong with a leather jacket. A leather look is a timeless one that works well with pretty much any outfit, so having a solid leather jacket in your wardrobe is always a safe bet.
Depending on the quality of the material, a leather jacket can be an investment, but a good quality jacket is built to last. Combined with their versatility, leather jackets have a place in any wardrobe. Here are a few of our favorite leather jacket looks for this season.
Blazers
The form-fitting leather blazer is a classic chic look that works just as well as a formal outfit or a casual look. Pair with a low-heel boot and some jeans, or throw on top of your smart-casual outift to give yourself some edge.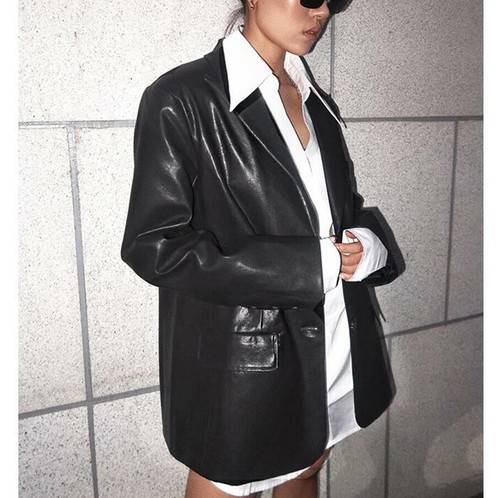 Oversized
"Clothes that fit are a thing of the past," says Sue Denim, a fashion writer at Writinity and Lastminutewriting. "When looking at jackets, aim for something oversized and pair it with supertight bottoms for a sleek and fashionable look. You'll look so good the cow won't even care you've skinned it."
Trench Coats
While we're on the subject of oversized, a leather trench coat is a great option to go over your more sophisticated looks. It may sound a bit Matrix, but a long leather trench coat tightened at the waist with some metallic elements can really elevate a streetwear look or give some edge to a party outfit.
Cropped
On the other end of the scale, cropped jackets can give you a clean and angular silhouette whilst accentuating what's underneath the jacket. Try them with belts to really strap in the waist, or loose for comfort.
Suede
For a less intense and edgy look, suede leather is a great choice. It has a certain refinement that works with office wear but is still cool enough to go with your night out. Oversized 1970s blazers are a good casual look that is still practical enough to do your daily errands in.
Play With Colors
Leather doesn't have to be black or brown anymore, so it's time to get creative with colorful jacket options. Picking a colored leather jacket turns it from a regular jacket into a statement piece, perfect for those big nights out. Racing green, bright neons, delicate pastels; the world is your oyster!
Stand Out
Leather jackets may be a classic, but that doesn't mean you have to fit in with them. The world is ending, it's time to get that studded leather jacket you've always wanted. Go bold with your choices, look for metallic accents, alternate colors, unique prints.
Accenting
One way to really stand out with your leather look is by accenting your outfit. Pick an unexpected color to pair with your leather. This can be something particularly bright, but a pastel could work just as well. The point is to pick something that is set off by your jacket for a striking image.
Less Is More
Angela Baskin, a journalist at Draft beyond and Researchpapersuk, says that "one of the best things about leather jackets is how they pull a look together, meaning you don't have to try so hard getting dressed. Something as simple as a plain t-shirt and jeans can suddenly look really stylish with an oversized biker jacket on top."
Sustainable Chic
Fashion is more than just looks, it's also about sustainability. High-quality leather jackets score well on the sustainability front, as long as you get a lot of good wear out of them. A proper leather jacket should be able to transition between the generations; that means either passing it on to someone else when you're done with it, or buying one second hand. Even better, why not both?
Vegan Leather
For those particularly conscious of sustainable fashion, vegan leather is a great option. Imitation leather has come on leaps and bounds over the decades to the point where most items are indistinguishable from the real deal. That way you can get the look without the guilt.
This post is written by Hannah Ross . A New York-based marketing professional and strategist at Assignment help Oxford and Gum essays.